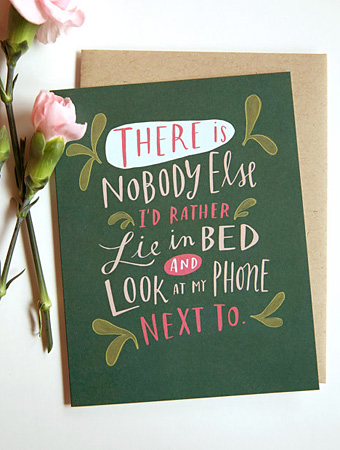 InStyle February 13th, 2014
Back in elementary school, Valentine's Day was one of the most exciting days of the year.
Reaching into an overly glittered paper mailbox taped to the edge of your desk was one of the best feelings in the world! Maybe the card you pull out would be from your best friend or a secret admirer or, better yet, your crush!
Remember that hopeful anticipation? That warm, fizzy feeling of love? You don't get that feeling from being tagged in someone's Facebook status.
We scoped out some of the best Valentine's Day cards around so you can spread some modern love the old-fashioned way.
This first Valentine card tops our list! We love its twentieth-century sentiment because, let's face it, all we really want is someone to share a wireless code with. If a Netflix binge is your idea of a perfect night, pick up the Look At My Phone card ($4.50; Emily McDowell) for your cuddle buddy.
See more great Valentines cards for your sweetie, after the jump!
Continue reading Spread the Love with these Adorable Valentine's Day Cards →