InStyle November 8, 2013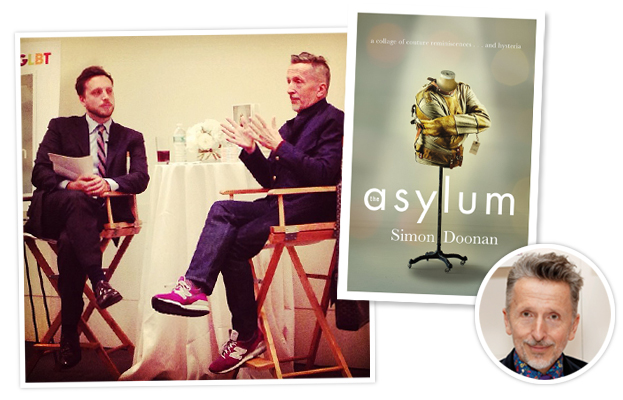 Though his official title is Creative Ambassador of Barneys, author Simon Doonan is also an instant backstage pass to a stylish world of eccentrics. His latest book, The Asylum, regales with behind-the-curtain stories of the fashion world that are equal parts glamorous and hilarious.
"It's called The Asylum because I think of fashion as being both a refuge and a nuthouse. There are both meanings in the word asylum," he told InStyle.com last night at a Time, Inc. event in New York City hosted by InStyle's editor Ariel Foxman, where he delighted the crowd with his patented brand of cheeky bon mots.
In the four decades that he's worked as a style insider, Doonan has accumulated a wealth of drool-worthy anecdotes about celebs, designers, and the fashion world at large. "I wanted to write a humor book and write down my most treasured dexterities before they evaporate. And having been in the fashion world for such a long time, I've seen this incredible period when it went from being a small world to being an infinite landscape. It's a global spectator sport now," he told us.
Reading The Asylum is almost as good as being seated next to Doonan at a chi chi dinner party. His confessionals are absurd and fantastical — from the time he got a wedgy from Tom Ford to the day the ceiling collapsed at a Michael Kors show (Anna Wintour remained calm, dusting bits of plaster out of Suzy Menke's hair).
Doonan both celebrates and skewers the fashion world. "I see myself as a carny, rather than an artist, presiding over my very own Coney Island sideshow," he writes. The Asylum is available now.
Can't get enough of over-the-top fashion, just like Simon Doonan? Check out our
We're Obsessed gallery
for all of the super-luxe pieces we're craving.