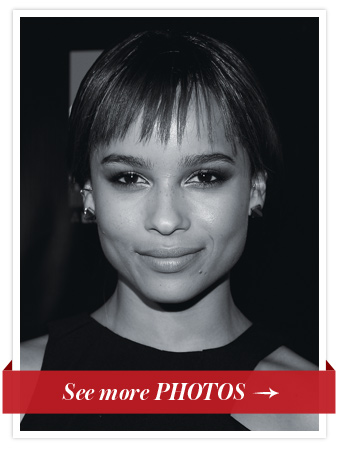 InStyle October 29, 2013
Zoë Kravitz was born with an exceptional style pedigree. The actress/model's mother is actress Lisa Bonet and her father is rock icon Lenny Kravitz. Even with all that innate coolness and genetically-passed-down poise, Zoë still manages to bring her own brand of beautiful to her style.
Read on to find out her style philosophy and secret style weapon, plus, click through the gallery to see her current obsessions — ranging from Burt's Bees balm to Chanel boots.

Your personal style in one word?
Comfortable.
What should every woman own?
Timeless pearl necklaces. Mine were handed down from my grandmother. You can wear them with everything from Ts to ball gowns.
What's your shopping philosophy?
If I'm lusting for something that costs more than $300, I'll sleep on it. If I'm still thinking about it the next day, I'll go back and buy it.
Your most recent splurge?
Yummy Italian oxfords by Officine Creative. There's something so sultry about wearing menswear shoes with a flirty dress.
Secret style weapon?
If I'm wearing a skimpy top and can't rock a bra with it, Fashion Fix apparel tape will secure my neckline and keep straps from sliding off my shoulders.
Favorite store?
Hidden Treasures in Topanga, California, has the best vintage coats.
Best workout?
I do Ballet Beautiful barre exercises three times a week. If you can't make it to the studio, they offer online classes.
The jeans you live in?
Siwy's low-rise jeans feel like a second skin.
Click here to see more of her style essentials.