InStyle October 28, 2013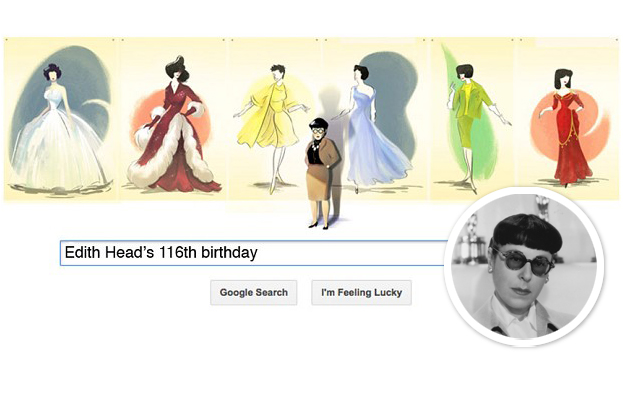 In honor of what would have been legendary costume designer Edith Head's 116th birthday, the star received the Google Doodle treatment today—sketches of her illustrations have replaced the usual Google logo on the search engine's homepage. Head was nominated for an astounding 35 Academy Awards, winning eight of them for Costume Design (more than any other woman in Oscar history). Working on hundreds of films in her storied career, Edith dressed almost every icon of the glamorous movie age including Audrey Hepburn, Ginger Rogers, Elizabeth Taylor, Natalie Wood, Mae West, Ingrid Bergman, Doris Day, Kim Novak, Sophia Loren, Rita Hayworth, and Bette Davis, who eulogized her as "The queen." Edith became Alfred Hitchcock's favorite designer, and was just as responsible as he was in inventing the dazzling "Hitchcock Blondes." Outside of the silver screen, Edith's dreamy designs could be seen on the red carpet, including Grace Kelly's French satin, ice blue gown that we picked as one of the best Oscar looks of all time.  Edith understood that fashion isn't just about the dress, it's about the person in the dress. Speaking of Kelly's dress, Edith said, "Some people need sequins—others don't."
Inspired by Edith? See our Film Noir trend gallery here!